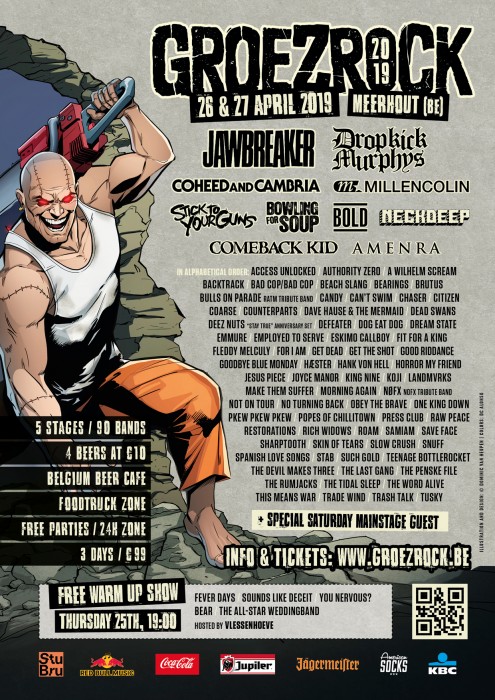 Datum
26. und 27. April 2019
Tickets
Kombiticket 99,- €, Freitag 60,- €, Samstag 79,- €, Camping 20,- €, Wohnmobil 60,- €. Tickets sind hier erhältlich.
Line-Up
ACCESS UNLOCKED, AMENRA, AUTHORITY ZERO, A WILHELM SCREAM, BACKTRACK, BAD COP / BAD COP, BEACH SLANG, BEAR, BEARINGS, BOLD, BOWLING FOR SOUP, BRUTUS, BULLS ON PARADE, CAN'T SWIM, CANDY, CHASER, CITIZEN, COARSE, COHEED AND CAMBRIA, COMEBACK KID, COUNTERPARTS, DAVE HAUSE & THE MERMAID, DEAD SWANS, DEEZ NUTS, DEFEATER, DOG EAT DOG, DREAM STATE, DROPKICK MURPHYS, EMMURE, EMPLOYED TO SERVE, ESKIMO CALLBOY, FEVER DAYS, FIT FOR A KING, FLEDDY MELCULY, FOR I AM, GET DEAD, GET THE SHOT, GOODBYE BLUE MONDAY, GOOD RIDDANCE, HANK VON HELL, HORROR MY FRIEND, HÆSTER, JAWBREAKER, JESUS PIECE, JOYCE MANOR, KING NINE, KOJI, LANDMVRKS, MAKE THEM SUFFER, MILLENCOLIN, MORNING AGAIN, NECK DEEP, NOT ON TOUR, NO TURNING BACK, NØFX, OBEY THE BRAVE, ONE KING DOWN, PKEW PKEW PKEW, POPES OF CHILLITOWN, PRESS CLUB, RAW PEACE, RESTORATIONS, RICH WIDOWS, ROAM, SAMIAM, SAVE FACE, SHARPTOOTH, SKIN OF TEARS, SLOW CRUSH, SNUFF, SOUNDS LIKE DECEIT, SPANISH LOVE SONGS, STAB, STICK TO YOUR GUNS, SUCH GOLD, TEENAGE BOTTLEROCKET, THE ALL-STAR WEDDINGBAND, THE DEVIL MAKES THREE, THE LAST GANG, THE PENSKE FILE, THER MEANS WAR, THE RUMJACKS, THE TIDAL SLEEP, THE WORD ALIVE, TRADE WIND, TRASH TALK, TUSKY, VERY SPECIAL GUEST, YOU NERVOUS?
Insgesamt gibt es fünf Stages. Auf der offiziellen Seite findet ihr die jeweiligen Bühnen und die Zeiten. Am Freitag vor dem Festival wird noch ein Überraschungsgast bekanntgegeben.
Letzte Informationen
https://mailchi.mp/926043ef59e2/get-ready-the-final-countdown-begins-for-groezrock-193835?e=b817faf488