Lineup
Rancid, Sum 41, Four Year Strong, Sick Of It All, Youth Of Today, Dag Nasty, Hatebreed, No Fun At All, Venerea, letlive., Modern Baseball, Night Birds, Rozwell Kid, PEARS, Bad Cop / Bad Cop, Emmure, Siberian Meat Grinder, The Aggrolites, BURN, Less Than Jake, Blessthefall, Saosin, The Movielife, Dillinger Four, Flatcat, Me First And The Gimme Gimmes, Juliette and the Licks, Frank Turner and The Sleeping Souls, SNFU, Terror, Face to Face, Walls Of Jericho, Northlane, Broken Teeth!, Despised Icon, Iron Chic, Frank Carter & The Rattlesnakes, The Falcon, PUP, The Dirty Nil, Moose Blood, Much The Same, Knockout Kid, Bury Your Dead, The Bennies, Hellions, Clowns, Not On Tour, TEEN AGERS, Muncie Girls, Double Veterans, Coma Commander, Tangled Horns, Off The Cross, Mad Caddies, WE'REWOLVES, Caliban und No Use For A Name (und Freunde).
Absagen
Acoustic Performances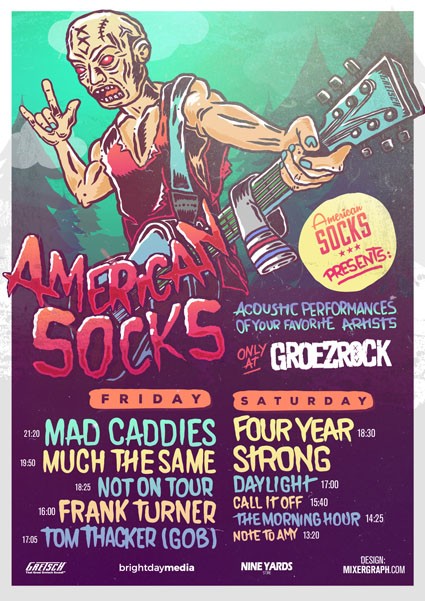 Bühnen & Timetable
Die aktuellste Verteilung der Bands und Bühnen findet ihr auf der belgischen Webseite. Timetable für Freitag und Samstag. Eine individuelle Timetable könnt ihr euch bei ClashFinder erstellen.
Geländeplan
Dieses Jahr gab es einige Änderungen am Gelände. Hier der neue Plan:
Tickets
Die Tickets sind im offiziellen Store erhältlich. Und aktuell nur da.
Ein Ticket kostet 65,- € für Freitag, 70,- € für Samstag, 98,- € für beide Tage (Combi) und 15,- € fürs Camping. Camping gibt es nicht separat und muss bei der Bestellung der Tickets mitbestellt werden.
Außerdem gibt es dieses Jahr wieder VIP-Tickets. Diese kosten für Freitag 140,- €, für Samstag 145,- € und für beide Tage nur 180,- €. Vorteile? Parken in der Nähe eines speziellen VIP-Eingang. Außerdem gibt es einen Shuttle-Service zwischen dem Parkplatz und dem Eingang. Zugang zur VIP-Lounge und ein eigenes Schließfach.
Apps